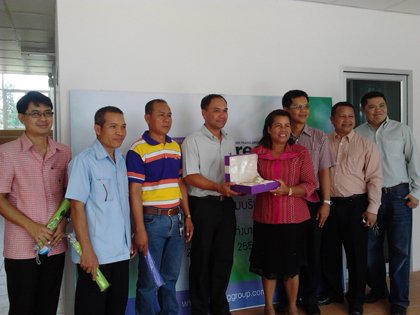 Opening ceremony for the production of STR rubber at the Kalasin branch of Sri Trang Agro-Industry Plc.
On Friday June 26, 2015, the Kalasin branch of Sri Trang Agro-Industry Plc., located at 218 Moo 4, Tumbon Pai, Amphur Muang, the province of Kalasin, organized the opening ceremony for the production of STR rubber. The ceremony was attended by the Chief of Tumbon Pai and staff, the director of Baan Kum Mek School, the director of the Baan Pai Hospital, and representatives from the communities and other companies in the area.
During the ceremony, the Company screened an introductory video of Sri Trang Group, showing the production process that complies with the standards laid out by the Rubber Research Institute of Thailand; the waste watertreatment system, which treats water for reuse 100%within our rubber plants; the air treatment system and methods for minimizing odour during transportation. The ceremony concluded with engagement activies with the communities in the area.
To demonstrate our green approach to production and our commitment to corporate social responsibility,   Sri Trang Group, under the leadership of Dr. Viyavood Sincharoenkul, has always treated fairly and with care in the supply-chain, from rubber farmers and rubber merchants to our customers. We have strived to minimize the environmental impact from our operations; created a safe and pleasant work environment; instituted an anti-corruption policy; and instilled in our employees a strong sense of environmental and social awareness.