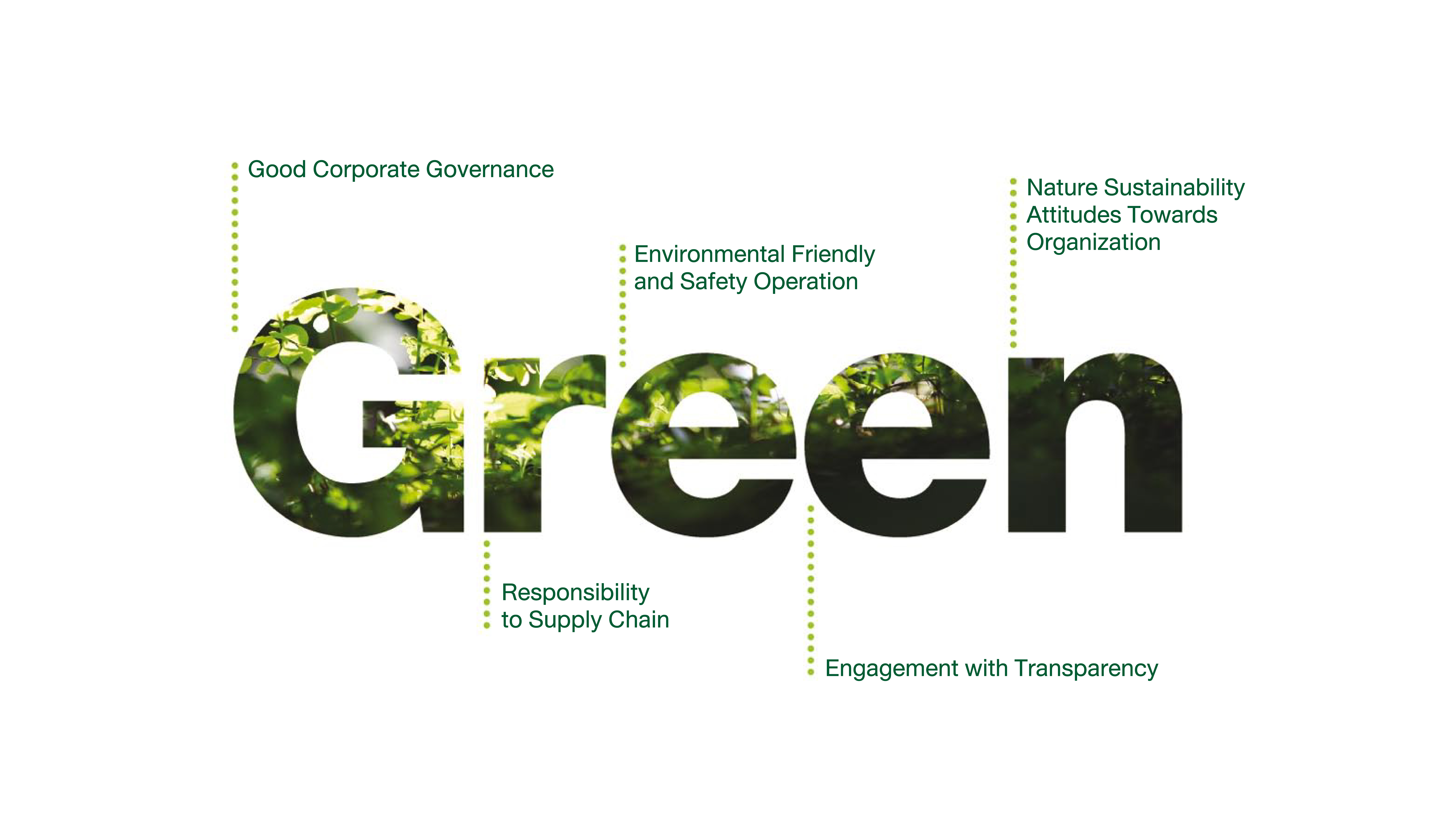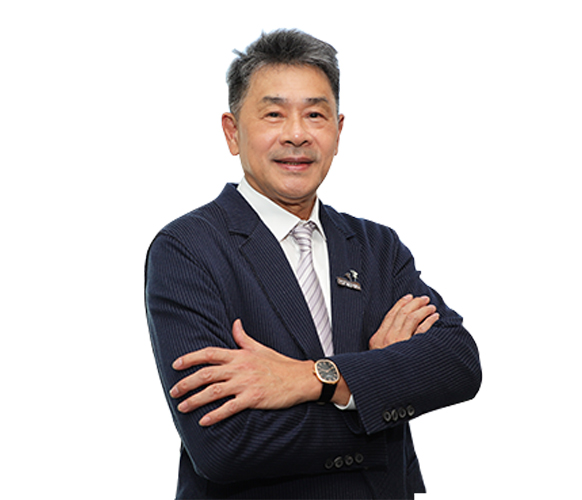 Message From Chairman
Over 34 years in the natural rubber industry
Over 34 years, we have been through good and challenging times in the industry and we have learned to be agile and quickly adapt to any changing circumstances. In 2021, we had to continue to deal with the COVID-19 pandemic, together with the many disruptions brought about in the workplace as well as in society. Amid these changes, STA was able to achieve a record THB 118,275 million in revenue and a record profit of THB 15,847 million. But we are not complacent. We are well aware how fast things can move and change and we keep our focus on speed, scale and sustainability in every aspect of our operations.
Speed
In this changing world where things move at a fast pace, speed is embedded in the work ethos of Sri Trang Group, whether it is the speed of deploying new technology to improve production efficiency, the speed of increasing our production capacity in advance of our competitors, the speed of striving to increase our market share through the fighting spirit that is the hallmark of Sri Trang Group, and the speed of developing new projects to support our core operations.
Scale
Scale is one factor behind our capacity expansion. We are aware that, to be able to compete on the global stage, we need to be of a sufficiently sizable scale. To that end, our strategy throughout the years has always been to continue to increase our production capacity in order to enhance our competitiveness and create economies of scale.
As of now, we have the largest production capacity in the global natural rubber industry, a market share of 10% of global natural rubber consumption and account for 32% of Thailand's natural rubber production output. Our glove business is also Thailand's largest and ranked third in the global glove industry. With this sizeable scale, Sri Trang Group is able to effectively compete on the global stage.
Sustainability
In today's world, sustainability is key to any business operation and as a "green rubber company," ESG has always been in our focus. On environment, we have implemented many projects to reduce green house gas emissions and increase clean energy consumption, such as the installation of solar roof and floating solar panels, which will generate two megawatts in energy for our natural rubber and glove production facilities. On society, we focus on the development of "human resources," which are instrumental in driving our operations forward. In accordance with our mission to "stay safe and healthy," we take great care of the health of our employees and have provided COVID-19 vaccines to all. Additionally, in 2021, our "Sri Trang Sharing the Love with Communities" project donated over 4.2 milliiion pieces of medical gloves to various organizations. On governance, we are committed to operating with transparency and have received recognitions from various organizations including certification from the Thai Private Sector Collective Action Against Corruption (CAC) for the second consecutive year, "excellent" good governace award for the third consecutive year from the Thai Institute of Directors and inclusion in the sustainability index (SETTHSI) of the Stock Exchange of Thailand.
Sri Trang Group believes that our operations wiil help steer Thailand's natural rubber industry on the path of sustainable growth. I would like to thank our directors, management, employees, shareholders and all business partners who have supported and trusted in Sri Trang Group throughout the years. The year 2021 was the best in the Company history and I would like to assure everyone that we at Sri Trang Group are determined to keep growing our operations toward new heights.
Message from the Managing Director
Conducting our business while taking account of environmental and social responsibility is the path towards sustainability to which Sri Trang Agro-Industry Public Company Limited ("the Company") has always adhered, in order to balance business value and value to stakeholders, as well as to grow the rubber business in tandem with the changes taking place globally. To achieve our goal of being a green rubber company, the Company has embraced the "4 GREENS" sustainability strategy, which consists of 1) Green Products; 2) Green Process; 3) Green Procurement; and 4) Green Company. Sustainability issues have been integrated into all stages of the Company's operations, from upstream to downstream. In 2021, the Company carried out important sustainability activities as follows:
Environmental Dimension
Pursuing the Goal of Being a Low-Carbon Company
It is undeniable that climate change is a global sustainability risk that may affect the Company's business operations, for example, the production of latex, which is a key raw material, or changes in regulations related to greenhouse gas emissions in various countries. The Company has therefore proactively managed the risks with the goal of becoming a low-carbon company with the focus on reducing greenhouse gas emissions throughout the supply chain through projects to improve energy efficiency in the production process; the increase in the use of renewable energy such as solar energy and the use of more than 90 percent biomass fuel to produce thermal energy. In addition, the Company has begun to evaluate carbon sequestration projects from rubber and wood plantations, which are the Company's upstream business, to offset greenhouse gas emissions from business operations.
BCG Economy Model
In addition to the management of resources and waste from the Company's production process according to the 3Rs (Reduce, Reuse & Recycle) principle, the Company has also implemented various projects according to the Economic Model for Sustainable Development or BCG Economy Model that uses technology to create value and efficiently manage the utilization of resources to minimize the use of resources and minimize the impact of disposal. For example, the S-Brick project uses boiler ash to make paving bricks, or the Useful Soil project that takes sediment from the cup lump cleaning process to make organic fertilizer for farmers, etc.
Social Dimension
Treating employees as family members
The Company places importance on taking care of all employees like family members. During the COVID-19 pandemic, the Company provided vaccinations against COVID-19to all employees, including families of employees, business partners and stakeholders in the vicinity of the factories, and closely monitored employees' health to ensure the health and safety of employees and to boost morale. In addition, the Company has embraced the concept of the "Happy Workplace" in organizing various activities that create joy and nurture the livelihoods of all employees, both Thai or foreign, as evident from our employee well-being and engagement scores, which have continued to increase.
Respect for human rights in business operations
Respecting the principles of international human rights is a key principle in the Company's business operations, especially where it concerns forced and slave labor in the supply chain. This year, the Company made improvements in human rights and non-discrimination policies to cover more international human rights practices and has conducted a comprehensive human rights risk assessment as it relates to employees and the local communities as well as established measures to prevent and mitigate impacts.
Contributing to the local communities and society
The Company has a policy to promote and support the communities in which the factories are located and build a strong local economy by supporting the purchase of local goods and the hiring of local people as well as creating various projects such as the "Trucking Tires, Creating Smiles" project that encourages rubber farmers and suppliers to transport rubber using a vehicle that conforms to the Company's regulations so as to prevent the serum from cup lump from spilling or leaking onto the road, causing a nuisance, which the Company has continuously implemented for 6 consecutive years. In addition, the Company also focuses on creating jobs in the local communities through the use of disused materials, such as making furniture from pallets, etc.
Governance and Economic Dimension
Sustainability throughout the supply chain
The Company has established Business Ethics for Business Partners as a guideline on sustainability practices for business partners and has encouraged business partners to operate their businesses by taking account of social responsibility, in the same manner as the Company. This includes setting up a process for selecting and evaluating business partners based on social and environmental criteria to prevent risks and reduce the impact on business operations arising from supply chain management as well as to create mutual sustainable growth together.
Furthermore, the Company has developed the application "SRI TRANG FRIENDS" to promote the fair treatment of all raw material suppliers by providing equal access among all suppliers. This application also changes the conventional way rubber trading by enabling the use of various services on mobile phones such as the easy and quick sale of latex, cup lump, rubber sheets, the access to updated news and knowledge about the rubber industry and communications with rubber experts, etc.
Innovation and technology for sustainability
The Company has established a research and development team to support and encourage employees to come up with new ways to improve work processes in order to foster into al culture of innovation. In this regard, the Company has focused on development through technology and innovation to improve production processes alongside environmental management as well as improving the quality of products to meet the needs of customers. Moreover, the Company has also implemented projects to increase production efficiency that use automation and robots, projects to increase energy efficiency in the production processes, wastewater treatment system so that water from production is not discharged outside the factory and can be recycled, the installation of a bio-filter system for treatment of odor from rubber baking and the development of protein-free latex.
Focus on building confidence in ESG
Having integrated sustainability into our operations at all levels from upstream to downstream and with ongoing efforts to improve our sustainability practices, sustainability has become part of our corporate culture and helped provide the Company's with immunity against business and potential risks. For the coming year, the Company will continue to strive to further improve our sustainability practices to build confidence among all groups of stakeholders through 3 pillars: 1) benchmarking and standardization of sustainability best practices; 2) decarbonization of business operations to support global and Thailand's carbon neutrality and net-zero emission goals; and 3) building collaboration and reputation with stakeholders. Through these undertakings, the Company aims to raise the level of corporate sustainability performance to a global level, reinforcing our vision: "We are an organization with a commitment and dedication to driving every possibility."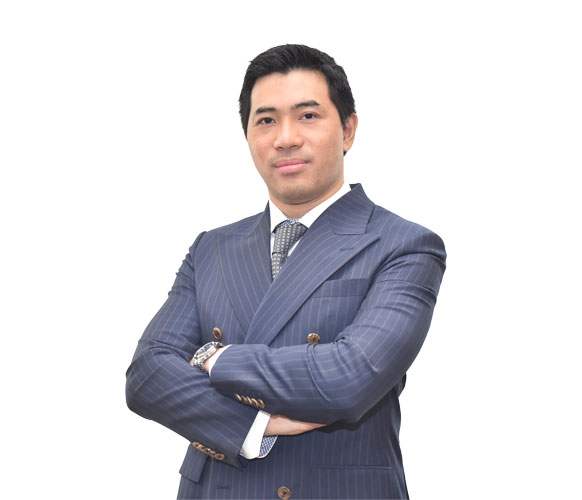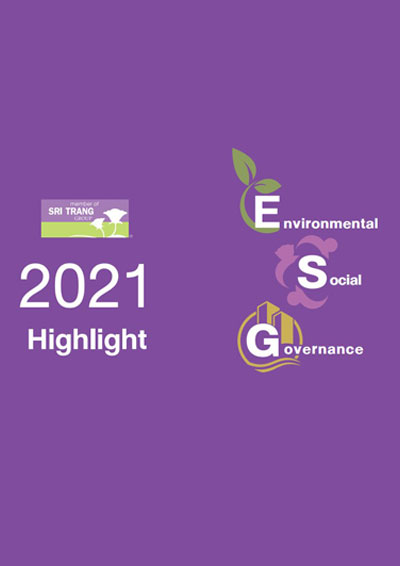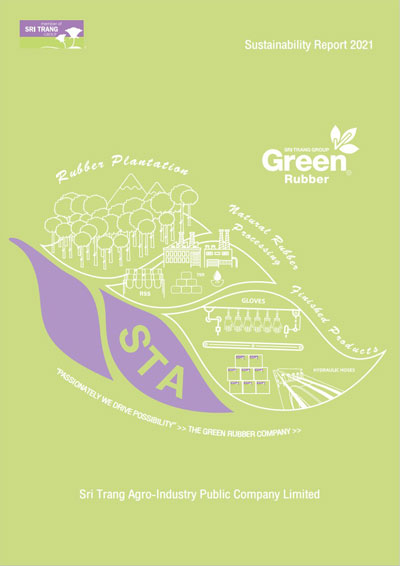 Whistle Blowing
Sri Trang Group has committed to conduct auditable business properly, transparency, fairly in compliance with Good Corporate Governances. Sri Trang Group also expects all groups of stakeholder are able to report some events which may conflict with such Good Corporate Governances in order to have the correct next.
Contact Us
Sri Trang Agro-Industry Plc. (Head Office)
10 Soi 10, Phetkasem Road, Hatyai, Songkhla 90110, Thailand
+66-7434-4663 (Automatic 14 Lines)
+66-7434-4676, +66-7434-4677, +66-7423-7423