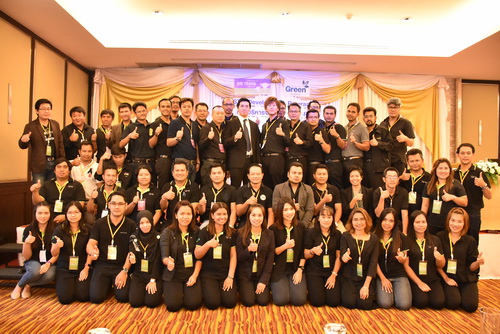 Sri Trang Group launches a training on 2016's Green Ambassador and an activity, STA CSR Award competition.
November 10-11, 2016 – Sri Trang Group launched a training program on 2016's Green Ambassador at Amari Don Muang Airport Bangkok. It invited Maiprae Srisai Loyen, vice president-public affairs, social responsibility division and international investment project of Sri Trang Agro-Industry Plc to be a speaker to give knowledge of CSR,CSV and SDG management to the plant managers, Green Ambassador and delegates from each plant in order to boost their skills and also understandings of developing the plants to have quality and be environmentally friendly for society sustainably.  
Moreover, the company gave certificates to every Green Ambassador and launched the STA CSR Award 2016 competition. Green Ambassadors in each plant were allowed to present their 2016's works in the competition for awards valued 50,000 baht, 30,000 baht and 20,000 baht respectively.
Such activities have followed the company's policy to give importance to employees and community, a move to encourage them to realize values in taking care of environment and natural resource reservation, as well as promoting them to use resources productively for the highest benefit to the society.