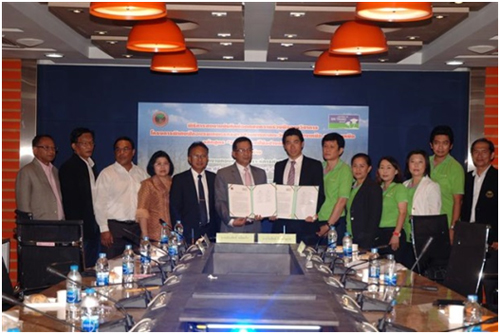 STA and ORRAF to establish training program "Development of Tapping Skills"
The signing of the memorandum of understanding (MOU) between the Office of the Rubber Replanting Aid Fund (ORRAF), represented by Mr. Prasit Meedsen, assistant director, acting for the director, and Sri Trang Agro-Industry Public Company Limited (STA), represented by Mr. Veerasith Sinchareonkul, director, on the training program for rubber farmers in the northeastern and northern regions, "Development of Tapping Skills"
Nowadays, the notion of sustainable development is an integral part of every organization. It is also a vital component of any growth strategy. From our "Green Supply" framework which includes establishing a fair and transparent procurement process, procuring clean raw materials, raising the level of social and environmental awareness among our business partners, particularly rubber farmers and suppliers of raw materials, as well as providing knowledge about the maintenance of raw material quality and the minimization of environmental impact, STA has decided to collaborate with ORRAF to establish a training program for rubber farmers. The program, called "Development of Tapping Skills," seeks to equip them with knowledge about and better understanding of the rubber tapping process, which will allow them to increase productivity, prolong the life of rubber tres, and satisfy the quality requirements of factories. The program will work with rubber farmers in the northern and northeastern regions, newly developed areas for rubber plantations where rubbers farmers still lack the relevant knowledge.